Salt – academia and culture
About the Venue Sjóvinnuhúsið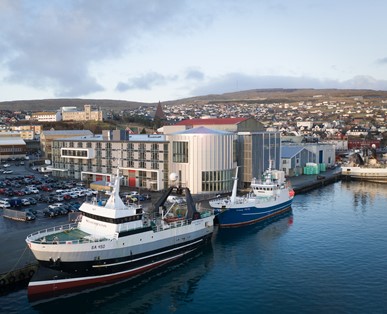 In the Faroe Islands, back in the day, salt was so expensive, only the rich could afford to salt food. But when fishing was industrialised, and the Faroese began processing salted and dried fish, large amounts of salt were imported with steamships. Fisheries and salt became two sides of the same coin. The regular salt import decreased, however, when A/S North Atlantic Salt Co, mainly through French funding, had a building constructed for the purpose of large-scale salt sale in Tvøroyri. It was the only salt outlet on the islands and thereby the one and only salt supplier to all the islands with no competition.
In response to this monopoly, in 1957, a number of individuals who worked in the industry, pooled their resources and established p/f. Føroya Saltsøla (Faroe Islands' Salt Sale Ltd.). The Salt Sale company cultivated lasting business relations with Spanish producers of Ibiza salt and subsequently built this silo for storage.
In 1975, the Salt Sale company's CEO, Hans Pauli Johannesen, bought out the other shareholders, and thus he became known as the Salt King of the Faroe Islands.
Shortly before the turn of the 21st century, the company went out of business due to a financial crisis. When the Salt Sale company later moved its headquarters to Toftir, the property on the wharf became available for other purposes. Tórshavn Municipality purchased it, and the old building was renovated and modernised. The result was a total of 7200 square metres divided between five stories. Today, the building accommodates various departments of the University of the Faroe Islands as well as other research and development.
The heart of Sjóvinnuhúsið, as the building is now named, is a great salt silo, which is now divided into three stories. The ground floor is home to the restaurant Silo. The first floor accommodates a broad range of activities, and the top floor is a large and versatile auditorium, dignified with the grand title of Kongshøll (the King's Hall) after the Salt King. Kongshøll is currently the home of academic activity and communication such as lectures, doctoral defences, and various conferences.
And so it was that the building, which formerly was filled with salt and fish, was converted into an academic sanctuary and modern knowledge factory.